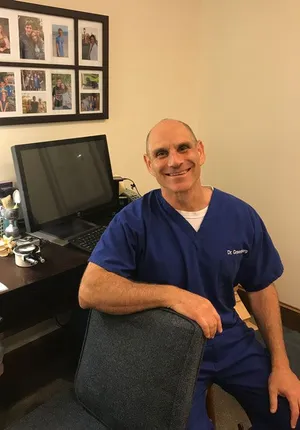 Dr. David Greenberg earned his BA degree from the State University of New York at Binghamton. After college, he began a corporate career in benefits and compensation in New York City. He was not completely satisfied with his career choice and began to look into medical school.
In 1990, Dr. Greenberg injured his back and went to an orthopedic medical doctor. After not improving significantly, Dr. Greenberg decided to see a chiropractor. After chiropractic care relieved his symptoms dramatically, Dr. Greenberg started to research the field. He liked the whole body and preventative approach of chiropractic and decided to enroll in chiropractic school instead of medical school. He attended Life University where he graduated Summa Cum Laude as the Salutatorian of his class.
Dr. Greenberg joined Randolph Chiropractic in 1998 and focuses on the Gonstead technique of chiropractic. He has a family based practice, which includes infants to the elderly. Outside of his practice, Dr. Greenberg enjoys spending time with his wife and two children as well as weightlifting, sports, and taking long walks with his dog.